Jul 02, 2019
Can Brands Win Back Consumer Trust?
Studies show that the size of a business will not directly influence how trustworthy they appear to consumers.
In a poll of 645 participants, a shocking 96.6% stated that they do not trust, feel connected to, or really even think about big brands or corporations.
A company's branding efforts are wasted on 24.8% of consumers that do not feel connected to the brand experience.
Of all the participants questioned, only 3.4% said that they trust big brands and corporations.
"84% of UK consumers are loyal to brands who share their values"
In order for a brand to be successful and engaging, it must build a trusting relationship with their target demographic. This will demonstrate to potential and current customers that the product or service they are buying will not only live up to expectations but also add value to their lives.
Trust between brand and consumer can have many benefits for a business. To start with, they will have a band of loyal customers, repeat custom, and eventually, the expansion of the business - all of which are traits that help legitimise a brand.
"Consumers are wary that brands are 'trustwashing' and being less than truthful about their commitment to society. Talking about an issue in an ad isn't enough. Brands need to go further to impact real change." Amanda Glasgow, Global Chair of Brand Edleman
In the dynamic modern-day marketing world, brands are not only expected to engage their audiences and stand out against the masses of ads they are exposed to, but are also expected to earn their trust - this is all made more difficult by an audience that does not want to be directly advertised to.
There are 4 main ways a business can build trust:
History
Subtlety
Authority
Relatability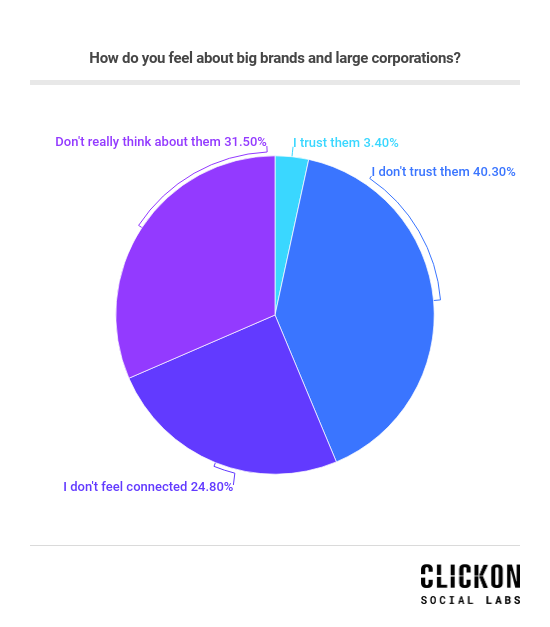 History:
If consumers do not know the story behind a brand - how they got to where they are now, any struggles, and how have they progressed - consumers will find it difficult to understand what that brand is about.
Brands will lack reputable testimonials from loyal customers that will convert the 3.4% of consumers that trust the brand into 30.4%.
Subtlety:
The modern-day audience is very mindful of when they are being advertised to, considering now that Gen Z will comprise 32% of the global population by the end of 2019, they are a demographic that does not like to be sold to and are becoming far more selective about the material that they watch. This will have a direct correlation to how much they will trust a brand or corporation.
31.5% of consumers do not really think about big brands or corporations. If a brand is continuously intruding and disrupting consumers with ads, they will not engage, not trust, and as a result, choose not to think about that brand.
Subtly selling a product or service through offering value, without the expectation of gaining something in return is a far more productive way of gaining consumer's trust.
Authority:
88% of consumers state that they trust online reviews to the same regard as a personal recommendation. So whenever it is possible, brands should speak with authority about their product or service and let the numbers and client testimonials earned speak for themselves.
If 40.3% of consumers do not feel like they can trust big brands or corporations, it leads to question whether these brands are advertising to potential customers about their current customers' experiences. Knowing that others have received satisfaction and value from a product or service will go a long way in retaining consumers and gaining new business.
Relatability:
24.8% of the participants questioned do not feel connected to a brand or corporation. Telling human stories are a great way to connect and build a brand reputation which creates a relatable platform for consumers.
As a company, CLICKON aims to create real connections, with storytelling as the driving force behind all content. Stories that allow audiences to be connected with and engaged. What has been recognised is that brands need to tell the raw, human stories in order to allow audiences to relate - we inspire not interrupt.
A brand or corporation's biggest asset is its customers, without them, the business has no hope in thriving. The acquisition of customers is not enough, they need to be converted into a loyal customer base so that they can provide the brand with a history and reputable testimonials. The method to achieve this is simple, building a trusting relationship between brand and consumer so that both parties are satisfied and gaining value.