Aug 20, 2019
How To Win Consumers And Drive Sales With A Brand Message
Hinge and Lush go against the grain with their new brand strategy in an attempt to remain relevant and in conversation with their key demographics.
Behind all brands, there should be a core message that resonates throughout the business and everything they do.
A brand message should be a simple statement that announces why the brand matters, what it represents, and how it will stand apart from competitors.
"There are too many examples of brands undermining purposeful marketing by launching campaigns which aren't backing up what their brand says, with what their brand does." Alan Jope, CEO, Unilever.
What is a brand message and why is it important?
A brand message is key as it allows consumers to relate to a brand. This can be achieved by inspiring, persuading, or motivating consumers and over time, it will convert them into a loyal customer who will continue to purchase the product or service offered.
All brands need a voice, and a brand message provides the words that will demonstrate to potential consumers what values that brand has. How brands express their promise to consumers is how they will spark interest, stimulate desire, and eventually develop a two-way conversation between brand and consumer. To achieve this, a brand promise and message should intertwine and tell a story so that conversation and trust can grow.

"It's not about the interruption thing anymore, it's about giving things that people actually want to engage with and find and view." Richard Brim, Chief Creative Officer, Adam & Eve/DDB
Hinge 'designed to be deleted'
This year, the dating app Hinge has launched their first major international campaign to promote their brand message, designed 'to be deleted', which features a furry character based off the app icon called 'Hingie'. Each time a couple connects, Hingie is brought to life and then gradually killed off as the couple grow closer together and develop their relationship, demonstrating the fact that Hinge wants their users to find love and as a result delete the app. Their brand message is clear and concise and distinctly runs through the campaign and content they promote.
The voiceover in the campaign comments, "Hinge wants you to meet someone great, even if it kills us. Because when you find the real thing, you won't need us anymore - which is kind of the point."
Hinge was recently signed by the Match Group, which also owns Tinder and Match.com, this has motivated Hinge to be the 'most effective' dating app. Emily Heyward, Co-founder and Chief Brand Officer at Red Antler adds,
"In an age of digital addiction, we were thrilled that Hinge wanted to take the bold stance of telling people to delete its app once it works for them. And what better way to show they're serious than actually setting fire to their logo."

From their slogan to their first international video campaign, Hinge are paving the way as a brand that emanates their message in everything they do.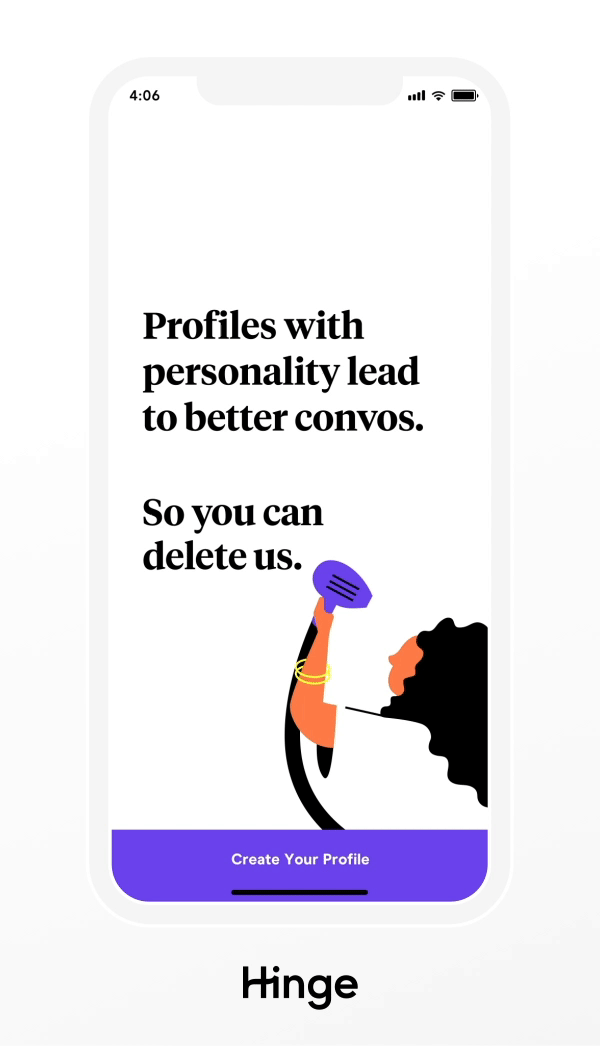 Why?
Despite announcements that indicated last year Hinge was the fastest-growing dating app in the US, UK, Canada and Australia, they are still very far behind their main competitor Tinder, that also released in 2012, in terms of downloads.
Tinder has positioned themselves in the market as the 'superficial' and 'naughty' dating app, whereas Hinge is taking the more 'attractive' and 'serious' dating approach for a similar young demographic. The Chief Marketing Officer for Hinge, Nathan Ross states,
"We want to share with the whole world that we're designed to be deleted, on Hinge there are no rules, timers, or games, as we've built an app that's actually made for getting people off their phones and out on great dates,"
Roth continues,
"people often ask how we stay in business if our goal is to lose customers. It's actually quite simple. There's no better advertising than our user's own success stories. Right now, most downloads come from happy couples who encourage their friends to give the app a try."
Recent research found that one in ten of 1,976 internet users aged 18 and above have used a free dating website or app in the last 12 months to February 2019. Of the users questioned, 39% had downloaded Hinge based on a friend or family recommendation. Hinge know what their consumers want from the app and have harnessed this to create a brand message that will resonate with their demographic without fail.
Despite the common goal for apps being to optimise time in-app, Hinge continues to ensure their brand message is clear throughout all aspects of the business, as they are focused on users' success which is ultimately to find someone worth deleting the app for.
Hinge considers their app a success, once their users are inspired to delete the app meaning, they need to promote their story so they can increase awareness and affinity towards the brand. From last year, Hinge's downloads have increased three times compared to this time last year, which indicates the success of staying true to their brand message and hopefully they will continue to innovate so that their brand message remains current and applicable to their demographic.
Lush ditches social media
Here's to the #LushCommunity, where all are welcome, always.

Find out more: https://t.co/OJND4EcoOi pic.twitter.com/HuktJNONKz

— LUSH UK (@LushLtd) April 15, 2019
This year, cosmetic retailer Lush announced the closure of some of their UK social channels and instead will be increasing their work with influencers. This video released on Twitter encapsulates what 'Lush' is about and how they are innovating their brand message to ensure they are relevant and in conversation with their key demographic.
They will not be removing all of their social channels, this change is only implemented in the UK, mainly across Lush Kitchen, Lush Times, Lush Life, Soapbox, and Gorilla accounts on Facebook, Instagram, and Twitter.
Customers will now be encouraged to connect with the brand via a people-to-people strategy, as opposed to a brand-to-platform-to-people approach, where the extra steps in between mean customers may not complete their action, whether its a purchase or conversation about the brand. Lush hopes to direct customers to their website, email, or phone line so that they can have a more human approach with their consumers.
We're switching up social.

Increasingly, social media is making it harder and harder for us to talk to each other directly. We are tired of fighting with algorithms, and we do not want to pay to appear in your newsfeed. pic.twitter.com/nJUzG0lham

— LUSH UK (@LushLtd) April 8, 2019
They view this change as altering their strategy from an organic approach to a more community-driven approach. Lush released this statement in line with the change,
"Increasingly, social media is making it harder and harder for us to talk to each other directly. We are tired of fighting with algorithms and we do not want to pay to appear in your newsfeed."
Lush believes this innovation will encourage users to contact them directly, opening up a two-way conversation, whether it is with the brand or their influencers - following this Lush states:
"In line with this change in our strategy, you'll start to see the rise of Lush personalities online. This isn't a replacement for the brand channels, but an opportunity for our customers to connect one-on-one with people within Lush, based on the various categories."
Why?
This radical step by Lush has marked a significant change of pace for the company that once centred its marketing strategy around social media.
There is a fantasy surrounding social that deems it the main platform where consumers can share and build a community, however, what this can give way for, is an easy way for consumers to complain and get a response quickly. Brands run the risk of encountering this problem with social channels due to their fear of not always being present, they believe releasing mass content so they are always seen by consumers is the way to get noticed, however, consumers see through this and deem it meaningless.
As a result, Lush has now adapted their brand message and strategy to "stop talking, and start listening", they want to "spark passions, and stop chasing 'likes'".
The company statement says:
"We believe we can make more noise using all of our voices across the globe, because when we do, we drive change, challenge norms and create a cosmetic revolution [...] This is the first, exploratory step in Lush UK cutting out the middleman between ourselves and the Lush Community. However, we understand that this isn't an action that can be supported just yet in all markets. This isn't the end, it's just the start of something new."
Lush have decided to do what so many brands are afraid of, they are thinking beyond their social platforms and looking back at their inception and brand message, they asked themselves: Who are we doing this for? Why are we doing this? Instead of focusing solely on the 'why' and 'when'. Like Hinge, they dared to be different, and so far it appears to have paid off, as they ensured their message was clear, concise, and promoted throughout all aspects of the business.