Jun 18, 2019
Is In-Housing The Future Of Digital Marketing?
A recent study uncovers that 91% of brands have moved some of their digital marketing operations in-house. This is a trend that is gaining momentum and changing traditional operating models.
In-housing is the advertising industry's moment of truth, where brands have had enough of the broken and hardly transparent agency model.
It can be the result of problems originating from brand safety or simply the fear that brands are not getting value for money or an adequate ROI.
"30% of marketers are 'unsatisfied' with their current agency model."
Brands have recognised they need a faster, simpler, and more transparent process in order to stay ahead of the game in the current digital world. The solution is bringing these aspects closer to the brand, and in a nutshell, this is why in-housing is the future of digital marketing.
1. In-house media buying:
90% of advertisers are interested in changing how they buy programmatic ads.
Why are they looking into this? Simple, they want improved control and transparency.
International brands, such as Kellogg and Netflix have now brought programmatic buying in-house with the intention of controlling their own data. Brands are increasingly looking to make it a priority that they see data themselves, especially those that are frustrated by the lack of transparency from some agencies.
Furthermore, by bringing media buying in-house, there is an opportunity to make compelling savings and by using the latest available ad-tech, managing, planning and also buying programmatically can develop into an internal competency.
2. Control and use first party data:
To be able to control first party data is one of the top benefits of in-house marketing as this means a brand's customer data is secure.
Caitlin Romig, Senior Manager of Digital Marketing at Rosetta Stone explains:
"It's important that we're not sharing that data outwardly with an agency that could potentially work with a competitor down the line."
So although a rare situation, it is still possible that unscrupulous individuals could misuse a brand's customer data.
There are more opportunities that come from staying in control of first party data. Firstly, in-house teams are able to optimise and deliver personalised messages to the correct people and in the most appropriate manner to the brand. Secondly, it is easier to quantify performance-based marketing with a brand's successes and failures analysed and used to improve strategy thereafter.
3. Be more agile and in the moment:
One of the biggest bonuses of having an in-house team is agility, there is less need to wait for agencies to respond to any changes in market conditions, on the other hand, decisions are made and then quickly put into effect by the marketing team. Thanks to in-house, marketing teams are able to adopt more efficient and agile ways of working.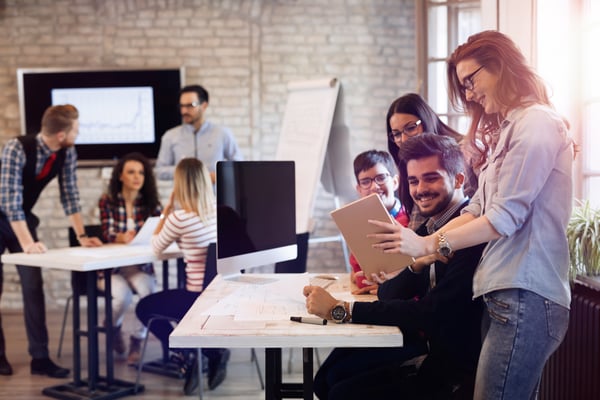 In addition, as the world is becoming increasingly more connected, advertising is moving away from its focus on single campaigns, and is more concentrated on keeping a valuable message that is continuously updated - in-housing paves the way for this.
4. Agencies are evolving:
The agency model will not be fixed or destroyed if brands start to move in-house. Instead, it will make agencies improve as they will look to benefit their clients more instead of obscuring processes.
Founder at Moving Image & Content, Quynh Mai states:
"Brands will start looking toward niche agencies who really understand their craft and have deep expertise."
Smaller agencies can thrive off their specialities while more brands move in-house because they are now being asked to do what they do best.
Moving in-house will implement clear and universal metrics, a risk of losing when brands use multiple agencies, which stretch the understanding of different performance standards. Brands that are moving in-house will have a more transparent process, reduction in ad fraud, as well as greater brand safety.