Oct 22, 2019
Just well or wellness?
In a world where it is almost impossible to switch off and certain conversations about mental health and wellness aren't easy to discuss, how can we look after our wellbeing?
Approximately 1 in 4 people in the UK will experience a mental health issue in a year.

In the advertising industry, this statistic is even higher, reaching 1 in 3 people.

In a world where it is almost impossible to switch off, people are never more than a few minutes or metres away from their phones, emails, or social media. It is increasingly hard to take a genuine step back or to break from the world around us - even for a short while.
The average British adult will check their phone every 12 minutes of the waking day according to Ofcom.
Statistics about mental health and wellness appear to be on track to get even worse if individuals do not find the time to completely switch off and look after their wellbeing. It is also important to engage in honest and open conversations about mental health.
As with any company, the employees are the business' best asset, without them, there is no business. If the team is happy and healthy, not only will they benefit, but the company and clients will benefit as well and the image of the company will improve. The reputation of the business will be more respected and more people will want to work for and with with the company.
The majority of our lives are spent at work; therefore it must be an environment where conversations about mental health and wellness are not only accepted but encouraged. According to a report carried out by 'Time to Change', called 'Attitudes to mental illness 2014', it was found that only 40% of people said they would feel comfortable discussing their mental health problems with an employer and 48% stated they would feel uncomfortable. This needs attention.
The Mental Health Organisation found that productivity at work will increase by 12% if wellbeing and mental health needs are addressed.
Two of our CLICKON employees, Hettie and Georgina, decided to visit the Glug event, 'Wellness', to learn more about mental health and see what insights they could bring back to the office.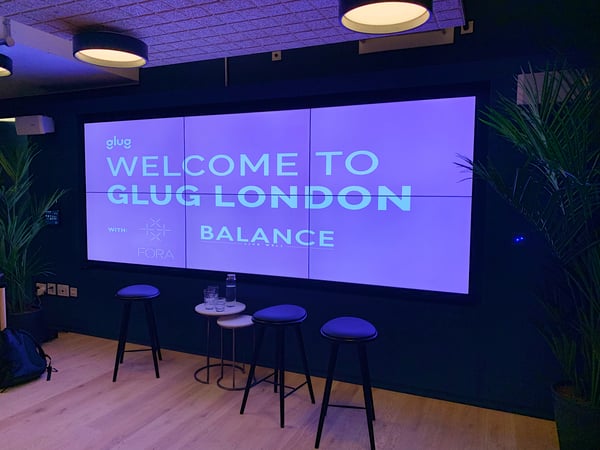 "We think it's time to unleash the power of creativity in promoting mental wellbeing" Glug London
Who was there?
The first speaker was Amanda Blainey, an author, speaker and social activist in the growing 'death movement' and founder of 'Doing Death', a multi-media platform and podcast that opens up authentic conversations about the subject of death and dying. Blainey also works in a local hospice while training to be a death doula, and has just released her book, 'Do Death: For a Life Better Lived'.
Blainey's discussion was an eye-opener since, too often in society, death as a topic of conversation is usually avoided. Through her work, Blainey intends to shift old paradigms to encourage more acceptance of death as part of life, so that people can live more fully.
"It was refreshing to have a very open discussion about death, I agree with Blainey, it needs to be a more normalised conversation. I shy away from talking about death to avoid an uncomfortable situation or avoid ingenuous sympathy. However, when we consider the fact that 1 in 4 people experience a mental health issue, it seems ludicrous that an issue as prominent as death is not discussed as openly or extensively as other parts of life. As Blainey states in her book, "death has a 100 per cent success rate", there is no way to escape this end, so why are we denying its existence by refusing to talk about it?" Georgina Cockaday, social content producer, CLICKON Media.
Another thought-provoking discussion was led by Martin Palethorpe, a specialist mind coach and desert runner. The room was taken through a short meditation where we closed our eyes while Palethorpe asked the audience to reflect over a few questions:
"What is it you're doing when you are at peace? Or what are you not doing?"
"How often do you experience that?"
"When are you in flow?"
The purpose of this was to remind everyone that the mind has the most profound impact on our entire human experience. Hettie shares her key takeaways from the evening:
"Martin's talk reminded me of the importance of taking time for myself, to take a deep breath, stop and think. Martin encouraged us to notice our feelings and made us realise that we can harness our happy feelings anytime we need them. This could be such a powerful tool that I will use for the future, a useful trick that I can bring to the office on a stressful day or when I'm feeling down."

"One quote that still stands out to me that Martin discussed is about confidence, he said it isn't a real concept, that from one day to another, someone's confidence changes for no good reason. He believes that confidence is our natural state, it's when we are not overthinking." Hettie Headford, creative designer, CLICKON Media.
A discussion led by the co-founder of Milk for Tea, Jack Norman, also stood out for us. His company aims to help men live to the fullness of their potential. They host a variety of workshops, coaching, and training & development for both genderes to support and encourage men to recognise their value while living out their purpose. This discussion struck us because, in the UK, men are three times more likely to die by suicide than women. The work Milk for Tea is doing in encouraging men to speak openly about their mental health and not be afraid to ask for support could be crucial in working towards decreasing this figure.
While these guests addressed very different aspects of mental health and wellbeing, their proactive methods and insights provided us with some transferable knowledge about using the power of creativity to help promote mental wellbeing.