Sep 25, 2019
5 golden rules of in-housing digital media
A recent study reveals that 91% of brands have moved some of their digital marketing operations in-house, this trend is gaining momentum and changing traditional operating models.
In a nutshell, in-housing refers to brands taking back more control, instead of always outsourcing.
Marketers are noticing that traditional operating models are changing and as a result, are considering moving operations in-house, but what is crucial for brands to understand is that in-housing is not an all or nothing change and will look different for each brand.
Brands understand that they are in need of a faster, simpler and more transparent process in order to stay ahead of the game in the current digital world, and the solution is bringing these aspects closer to the brand.
Recently, well-known brands like Vodafone, Pizza Hut, and Pepsi have been testing the waters of in-housing. Despite not all performing successfully, it indicates that in-housing is well on its way to becoming an established industry trend. The opportunity that in-housing brings to brands is a change in the relationship between brand and agency and it will be a different model for each brand, marketers will need to consider these five golden rules before committing to in-housing.
1. Motivations to go in-house:
A brand's motivations to go in-house are key to establish before embarking on this transformation, a brand not trusting an agency is not a valid enough motivation to go in-house as in-housing comes with the risk of creating silos and somewhat losing a brand's key message due to further fragmentation. Brands must not forget that digital is only one part of a marketing strategy, a closer look at the bigger picture is a necessary step before in-housing.
Additionally, a brand must consider the four main operating models within digital media. On one end of the spectrum, there is the agency owned/ agency operated model, where brands have little to no visibility of the total media spend. On the other end, there is the client owned/ client operated model. Within these models, there is also a hybrid relationship developing where some operations are dealt with in-house and others stay with the agency, this can be a much healthier and effective way of in-housing. It involves a more flexible approach with clients, and if the right level of flexibility is found, brands will have the opportunity to pick from an agency's services in line with their needs as opposed to having a broad-stroke service.
2. Consider technology ownership:
Where technology ownership is concerned, there are various factors that marketers need to consider. Brands will face challenges that are worth considering early on, for example, a brand will need to assess the financial implications of bringing tech in-house and they will need to take the time to understand and choose the best tech options for the brand.
These potential challenges need to be contemplated against the possibility of in-housing achieving more effective campaign operations, more transparency throughout the process, and strategic gain from vendor-direct relationships. Brands should own the software and then grant partners access to it based upon need not want.
3. Build the right team:
Across the industry, there are already difficulties involved with finding and keeping the best talent available.
In-housing means that employees are immersed in their company's culture, they will know the brand and products to a high degree, plus they will be driven to perform for the brand. They will also be able to provide a brand with a level of expertise that will improve ad performance and save money in the long term.
To achieve this, brands will need to find employees who have the correct skills and knowledge, which will not be easy. For example, with programmatic advertising, a complicated technological infrastructure is needed, and this requires the right investment, skills and talent to ensure it works. A brand will need to consider if they have the resources to find this talent that can reproduce the proficiency of a third party solely dedicated to this area.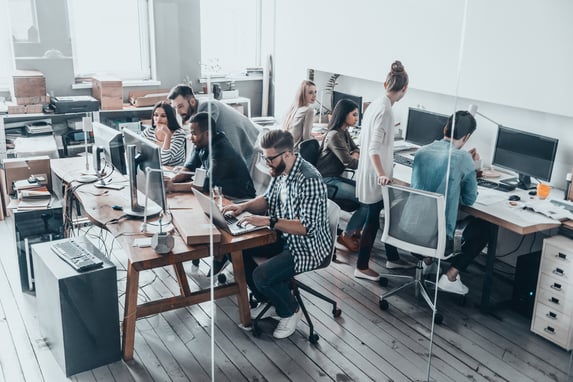 4. Establish a clear process:
When a brand is entering a new partnership or a new marketing strategy, it is imperative to have a plan and process in place to ensure that the change is implemented effectively. The same applies to in-housing, with a clear process in place, this should facilitate efficient ways of working.
In addition, regardless of whether a brand decides to involve an agency in the process, operational transparency within all parts of the media chain is key. Brands will need to establish ownership and have the relevant people accountable to deliver back to the campaign success so that going in-house is a smooth transition.
5. Request a transparent media supply chain:
Regardless if a brand is working with an agency or not, that brand should have visibility of the media supply chain.
93% of senior marketers choose an agency or supplier based on their ability to prove transparency and brand safety for the future.
Brands want to take back control and the main motivators for this are transparency and trust, as there have been instances where brands have spent millions on ad slots that were never seen by the consumer. Transparency is one of the biggest reasons brands are going in-house and should not be overlooked.
Going in-house does not mean it has to be all or nothing, the aim should be to find a balance so that a brand can take back control but also benefit from the support agencies can provide them. While there is no right or wrong operating model, there are elements a brand needs to examine as well as finding where they best fit on the spectrum of operating models, with special attention to hybrid relationships.