Feb 04, 2019
After Fyre Festival, What Does The Future Hold For Influencers?
Planning and pulling off a new, luxury festival isn't for the faint hearted, but determined entrepreneur, Billy McFarland, wanted to be a business icon and he believed that his concept of the Fyre Festival would secure him a place in history.
The recent sensational Netflix documentary shows that is exactly what happened, but not for the reasons McFarland had hoped.
The tale is one about having a dream and wanting to create something special, and armed with charisma and enthusiasm, McFarland got under the skin of investors, celebrities, PRs and the top influencers. They were promised something spectacular and who could blame them for wanting to be a part of an A list event that would be attended by the rich and beautiful and set the world on fire?
Organisers spent immense amounts of money on a slick launch campaign that involved a host of supermodels and influencers who set the internet alight by sharing gorgeous pictures and videos of themselves partying in the Bahamas, where Fyre was to be held. Add in the simple 'orange squares' that became synonymous with the festival and Fyre took over the internet with everyone wanting a piece of the promised land.
The influencer's enlisted to deploy – what was on the surface – an epic social campaign included Kendall Jenner, Hailey Bieber, Bella Hadid and Emily Ratajkowski, with Jenner being paid $250,000 to post just one Instagram post
A short promotional film of the girls partying on the beach and having fun on the back of speedboats, while private jets flew in and out of the island, was blasted across all of Fyre Festival's social media channels – showcasing the festival as the ultimate place to be this summer and prompting their followers to buy tickets.
2018 saw a shift in influencer marketing – with it not only leaning toward a much more authentic approach, but with influencers using their voices and platforms for social and political change. Take Colin Kaepernick and Nike's campaign, for example.
When the success of the social marketing campaign is paired with the disaster of the actual festival, it raises the question, has Fyre Festival damaged how far influencer marketing has come? And what does the future really hold for influencers?
The buzz derived from the influencers was false and the documentary takes a candid look at how people were enthralled by the energy and belief systems of McFarland, and even when the team had to find a new island (as they were thrown off the first), his supporters remained loyal and sales continued to be made.
Once the Fyre Festival event came around and the social influencer campaign could no longer hold up its grand illusion – the reality came through and hit social fast. Hundreds of people turned up to find simple tents, poor food and certainly no private jets. With no signs of pop stars or paparazzi, Fyre was more chaos than Coachella and the moment a kid with 400 followers on Twitter posted a photo of a simple, sad cheese sandwich, the Internet imploded and both guests, and investors, realised this was the end of the line.
The dinner that @fyrefestival promised us was catered by Steven Starr is literally bread, cheese, and salad with dressing. #fyrefestival pic.twitter.com/I8d0UlSNbd

— Trevor DeHaas (@trev4president) 28 April 2017
Everything that had been worked on for a year, totally unravelled in seconds and the brand came apart at the seams. The whole exercise became not only a viral joke but a criminal investigation and many people we left with egg on their faces and holes in their bank accounts.
Hayley Warren, Social Content Producer, says: "Fyre Festival is a great case study to demonstrate the true power of influencers in today's world – but ultimately, it also raises some really important questions around how influencer marketing is regulated, too.
Should influencers research every brand they put their name to? In theory, yes; influencers owe it to their followers to fully understand what they endorse but in practice, I wonder how thorough they can always be.
In the case of Fyre Festival, it's unlikely they knew the extent of what was going on – even Ja Rule (a co-founder) still maintains he was 'conned'.
However, the new CMA/ASA guidelines mean #ads (paid for social content) need to be far more obvious to the reader and detectable straight away.
Kendall Jenner received $250,000 to post and made no mention in the caption that it was an ad. Had she included a reference that she had been paid to post, would this have changed the huge influx in sales as a result of her Instagram? Probably not. But it would at least have given users an opportunity to be more cynical about the buzz.
With that in mind, we are working toward a more transparent influencer marketing world. It's only a good thing that users (particularly the less media savvy) are given an opportunity to form their own opinion, with all the facts available. Plus, it means brands must work harder to think authentically and creatively to create convincing content – rather than just chucking money at a top influencer."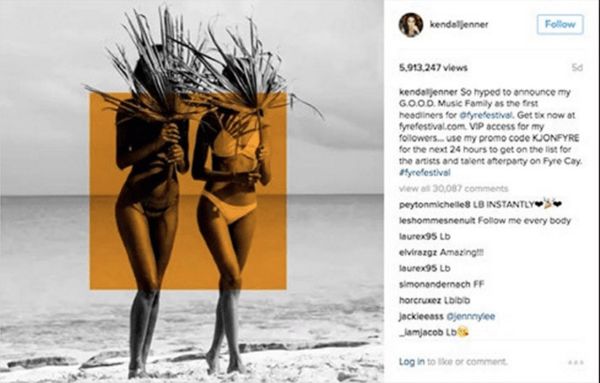 Richard Wilson, CEO, comments, "Today's consumers are savvy and smart and they don't want to be lied to, which is exactly what happened in this situation. Fyre was an extreme example of influencers being involved in creating a buzz which lead to sales and sign up, but the fallout was pretty catastrophic.

We hope people will watch this and be smarter before they part with their hard-earned cash and work out for themselves, if something really is too good to be true. 2019 has been dubbed "The Year of the Authentic Influencer' which means obligations and responsibilities need to be taken seriously on both sides.

While some still think that all publicity is good publicity, if people's perceptions of influencer marketing isn't to be tarnished, more care around transparency and promotion needs to be taken, and when promoted content is shared, hashtags like #ad, #spon and #sponsored must be used, however famous they are."