Jun 11, 2019
What Does An 'Always On' Approach Look Like At CLICKON?
Thoughts from Richard Wilson, CEO & Co-Founder at CLICKON.
'Always On' is a recent marketing development, designed to help brands tackle the new digital era.
It is centred on a promise, made by brands, to tell authentic and engaging stories in order to build a two-way conversation with their audience, where they add value, not continually interrupt.
At this time, audiences are increasingly selective about the content they consume, therefore it is up to an 'Always On' approach to provide beneficial rapport and engagement for their audiences.
At CLICKON, we see 'Always On' as a commoditised package that is delivered monthly. The partners we work with know what they will get with us: a hero creative with 50-100 supporting assets so they can propel the campaign across all devices and channels.
Within hours, not days, our team will test poorly performing creative, then re-edit and re-deploy until our work reaches the engagement benchmarks set. The CLICKON team will plan how the creative can live and thrive across all channels and are able to plan campaign timeliness across three, six, or twelve months.
24/7 Content - Seamlessly Linked And Propelling The Conversation:
Our 'Always On' approach is visualised as a flywheel of self-perpetuating sustained activity.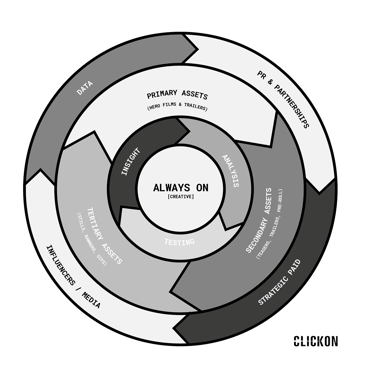 We can also visualise where content will live before going into the production stage.
How Are We Redefining Branded Advertising Through 'Always On'?
For over two years CLICKON has been innovating with an 'Always On' approach. Through our development in publishing, media, and branded content, we have built a business that understands how to create, test and deliver content at scale. Due to our commitment to the future of this approach, we built a new software product called iQ, so that brands and clients have the ability to take back control of the process whilst maintaining full transparency. Including an end-to-end process that creates, provides feedback, and deploys global campaigns at speed.
We recognise that storytelling is at the heart of modern marketing, and so we want to provide our partners with the opportunity to become their own unique storytellers, data, and media owners. This is achieved through an 'Always On' approach. We believe it is our role to facilitate brands so that they can become their own 'Netflix', we will provide the resource and technology wherever it is required.
With our empowering in-house teams and technology, that find stories to produce creative, we will do everything our partners need in order to succeed, month in and month out.
Results from our ongoing campaigns: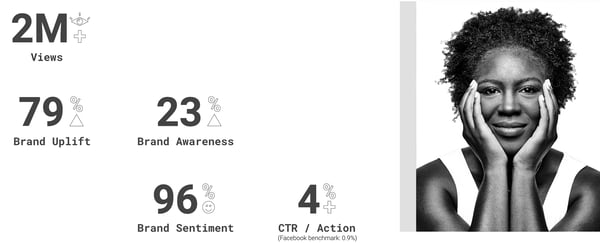 (Average example of campaign results)
Partners Leading With An 'Always On' Approach:
Special Olympics:
There is no greater call to action than to work alongside an organisation like the Special Olympics. Across the globe, the Special Olympics is changing the lives of people with intellectual disabilities.
Our work:
We work alongside this incredible team to help them in planning, ideation, production, and distribution of 'Always On' story-based content, every month throughout the duration of the year. The monthly campaigns include a hero documentary film supported by over 28 assets that are customised for each channel.
Link to case study here.
US Navy:
CLICKON teamed up with VMLY&R Memphis to produce the series, Faces of the Fleet. When people think of the Navy, the first thing that comes to mind is the ships, jets, and advanced technology. We wanted to shift focus away from technology, to real and raw stories about the men and women in uniform, inside their real environments. This series is there to inspire the next generation of men and women who might consider a career in the US Navy.
Our work:
Working alongside the Partnership team, we deliver 'Always On' campaigns each month. Each campaign we create is led with a hero documentary film, showcasing an incredible human story, accompanied by assets for all channels, including YouTube and IG stories.
Link to case study here.
Continental:
How can General Tire UK reach an audience that is increasingly harder to connect with via traditional media channels?
How can they inspire and influence, while raising awareness around the importance of tire choice to UK consumers?
How can they create a message that resonates and ignites excitement when advertising a traditionally 'unsexy' product?
Our work:
The campaign has over 50+ assets for all digital channels, encompassing an 'Always On' approach. The distribution spanned across General Tire social channels and third-party partners.
Link to case study here.
Adidas:
There are countless reasons that people talk about running, this can be heartfelt, or simply inspirational.
Our work:
The series we did focused on storytelling and narrative with the aim of showcasing four athletes who regularly run in London. Our 'Always On' approach delivered a campaign consisting of four episodes with supporting assets including teasers, trailers, hero films, 360 videos, banners, and stills.
Link to case study here.