Mar 12, 2019
How To Engage Gen Z
In case you didn't know, the term 'Gen Z' is given to people born from the mid-1900s to early the 2000s. They are known as the super tech-savvy generation who were practically born with an iPhone in hand and an innate knowledge of how to navigate all social media platforms that millennials and beyond, are still trying to get the hang of.
Looking to engage this generation? Well, here are our top tips...
1. Tech Crunchers:
Gen Z grew up with social media as an integral part of their lives. It's not only how they communicate with their friends, but it's also the lens they use in order to make a judgement about brands. Being spoilt with native advertising from birth, they know what works and, we assume, what doesn't work. If it doesn't, they just won't bother watching.
Creating content, first with social, which can then be seamlessly consumed across all devices without disruption is non-negotiable to a Gen Z generation.
According to AdWeek, 50% of Gen Z's 'can't live without YouTube' - so there is no doubt that you must consider the platform that your content will be distributed on at ideation stage (whether it's YouTube, IGTV, Snapchat, etc.), to avoid awkward crops that only disrupt the brand message.
2. Immersive Audience:
Gen Z's do not want to be a passive audience. They want to be included - whether that's with an interactive piece of media - think Black Mirror's Bandersnatch episode, where the user could take charge of the plot or as co-creator.
Taco Bell used Snapchat's drawing feature to ask users to take part in Doodle Wars. A challenge that asked users to draw and submit their 'artwork', Taco Bell then went on to share their favourites.
This active, instead of passive experience, prompted better conversions and a more positive campaign outcome on the whole.
3. Own The Commentary:
We know that a social campaign doesn't finish when you hit publish. In fact, it's only just begun. The online conversation circling your campaign will ultimately steer how successful it's deemed, so you need to look beyond influencers to elevate reach and instead, tap into 'commentary' social accounts, like meme pages.
Yes, the low-budget, easily produced memes which you've probably sent to your friends have turned into serious monetised business accounts, and the best part about them is they're yet to understand their true value, so your return on investment is high. They are a breeding ground for organic engagement and currently have the authentic edge over influencers, that we are all craving.
For example, take Cult LDN's campaign for their client, streaming service Hayu. They tapped into the hype around the new season of 'Keeping Up With The Kardashians' and therefore decided to advertise two meme accounts from Instagram: bound2west and scousebarbiex, who have 500,000 and 160,000 followers respectively.
Lauren Smeets, talent strategist at Cult LDN told DigiDay: "Meme accounts get such a good return on investment compared to influencers, who no longer get the same results. It's hard for a brand to create the kind of wit that comes naturally to the content creators behind these meme accounts. They are relatable, so they get amazing engagement."
4. Conscious Customer:
56% of the Gen Z generation consider themselves to be socially conscious, and by growing up with the power of social media at their fingertips, they've seen they can not only hold brands to account, but can also find suitable alternatives to purchase their favourite items.
According to 3BL Media, 90% of Gen Z's would buy products from a company who's addressing social and environmental issues (telling their brand story), over selling a product.
5. Ad Relevance:
Unlike traditional, unskippable adverts, Gen Z has mostly grown up with the option to click off. 44% of Gen Z's expect ads to be relevant, so there is no room for adverts which don't apply to them.
Spencer Waldron, Regional Director and Head of Story for Europe at Prezi spoke at the Festival of Marketing and raised the question about whether adverts can be binge-worthy. His answer? Yes. But only if you focus on "storytelling over product."
Our branded content series with the US Navy, 'Face of the Fleet' in partnership with VMLY&R, proves just that. This episodic styled content shines a light on the faces of the Navy. It shifts focus from what the Navy is typically associated with like ships, jets, and advanced technology. This series showcases the people who know the real meaning of Navy life and which won Best Use of Short-Form Film at the Adweek Arc Awards just last weekend!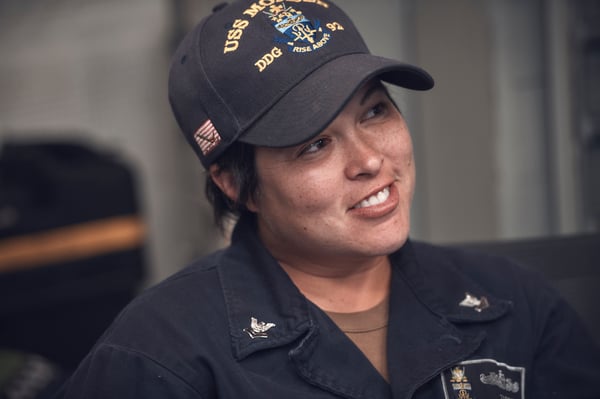 6. Transparency trumps:
The Gen Z generation has learned to question everything. With the enormous amount of information available, they've been conditioned to do their own research and form their own opinion rather than simply accepting the first thing fed to them.
Social is now typically the first point of call when looking up a brand; it's the first place people go to make a complaint and there's little room to cover up blunders. For Gen Z, transparency is the way forward. So, if you get it wrong, learn to 'own' any mistakes and open up the conversation to users about how you can do better in the future, because the default, vague and corporate tone simply won't fly with this generation.