Apr 23, 2019
How To: Use The Power Of Film In Storytelling
Brands now recognise that storytelling and authenticity are not just a passing trend, but an essential element in reaching and maintaining audience engagement.
Whether a brand is producing a full-length documentary, episodic docs or animation, film has an unquestionable power in influencing an audience through forming real connections.
The Brand Film Festival has highlighted three main campaigns that stood out as the best and most creative examples of storytelling through film, which each have key elements of storytelling in marketing to consider.
CEO at Observatory Marketing, Jae Goodman comments,
"Brand films are an incredibly powerful storytelling platform, and I love that more brands are sparking to the idea of making them."
Brand films are not an effective method of marketing for all types of businesses, however, when used correctly they are able to immerse a brand into their audiences' lives and better educate them on the product or service behind their story.
Goodman remarks that it is necessary to be
"Strategic marketers. Anybody thinking about using film as a marketing medium should start with a solid strategy and have a strong understanding of what role that film will play in the marketing mix."
This article will examine three campaigns and the key element in each which makes the film powerful in brand storytelling.
Know your end goal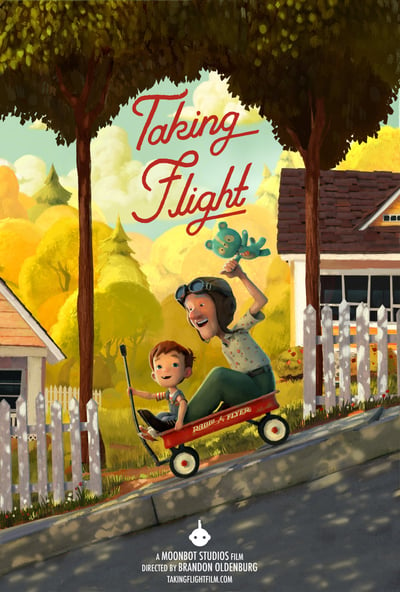 For its 100th anniversary, Radio Flyer partnered with Moonbot Studios to film a short animation, which would form part of its centennial campaign, with the intention of using this partnership to help boost their image in pop culture.
Co-producer of this campaign 'Taking Flight', Robert Pasin commented that they have
"this brand that's infused with stories and imagination, so it just seemed right to tell that story in film."
The film tells the story of a boy who is over-supervised while spending a boring day with his grandfather, that takes an unexpected turn into the journey of a lifetime. The film was released online, promoted via Facebook, posted on the company site and included in all centennial content.
One primary objective for the film was to form a connection with Radio Flyer and its image as a childhood classic. They hoped that this film would appeal to leads in a TV series for children or a full feature-length film.
From this campaign, Pasin hopes to find the right creative team and platform in order to
"create a film or TV show that will become a classic, like our brand."
Storytelling is not a method that all brands can use in order to reach their target audience, however, if you create a marketing strategy with a clear end goal, like Radio Flyer's then the work you put into the film campaign will resonate more with your audience.
Uphold Your Brands Integrity
Breaking2, a 55-minute documentary partnered with The National Geographic, tells the story of Nike's two-year journey to find the best runners and most ideal running conditions, with the end goal of creating a running shoe that could surpass the two-hour marathon barrier.
Chris Uettwiller, the CEO and executive producer at Dirty Robber, acknowledged that Nike's dedication to telling the story of the challenge through their documentary led to its success, not a focus on the product. This relates to Nike's slogan, 'Just Do It'. The brand is always telling the story of the challenges and success of their athletes, and this is what forms the image of their brand.
Uettwiller discusses this concept further:
"What makes Nike unique is their brand authenticity… They put the athlete first, then create products that let people beat the apex of their ability. The thing they hold above everything else is how to do the best for their clients, and if there is commerce on the back side, that's wonderful."
Brand films are not an excuse to leave the values and purpose of that brand behind, what makes the film successful is telling a story that only you can tell, and this is crucial in maintaining authenticity.
Ensure Your Films Have A Real Message
A successful ad must either educate or entertain. Audiences want something of value to take from an ad they consume and a real message within a film is crucial in achieving this.
Swiss running shoe and clothing manufacturer 'On', partnered with the Bullock & Hungry Man Productions, to create a film which would lead its #WeAreAllOne campaign to support the Athlete Refugee Team.
Bullock expresses the company's aim with this campaign to be the celebration of
"what the small Olympic team, made up of athletes unable to live or work in their own nation, stood for…"
To make this film, Bullock travelled to Ngong, Kenya, where the team's training camp was held. This campaign includes interviews and raw footage of the team training in order to showcase the refugee athlete's spirit, determination and resilience.
To ensure this film delivered a real message, two films were made, each for a different purpose. 'On' wanted the film to support the team at the IAAF World Championships as well as being posted on their website, PR channels and at a photographic exhibition. Once published, these videos resonated with a vast audience as they began to share and comment, which increased the reach of this campaign.
Bullock notes that,
"in a purely bought media environment, or 'push' scenario, the film gets traction through repetition. But in the current digital environment, it has to be of such high quality that it 'pulls' the audience."
That 'pull' that Bullock discusses is only achieved through a high standard of storytelling, that has a message which will resonate with an audience, making them trust your brand and its image.
If nothing else is learnt from this article, this last message from Uettwiller will depict the importance of a film's power for current and future branded storytelling:
"As the landscape of content continues to get cluttered, the importance of good storytelling and good characters is more important than ever. We have an opportunity to cut through that with branded film...We're entering a new era of storytelling with brands where we can be really smart about how we tell stories that work for the brand and the audience. We're going to see some really cool stuff."
Benjamin Potter, Global Creative Director & Co-Founder at CLICKON:
"When most people think of the Navy, they see ships, jets and advanced technology. They rarely see people, the ones who know the real meaning of Navy life. 'Faces of the Fleet' is about shifting the focus from technology to real and raw stories of our men and women in uniform - inside their real environments. It's about helping audiences understand what life is truly like inside America's Navy. These captivating stories serve as a teaching tool, boosting the Navy's recruiting capabilities."
Faces of The Fleet: Michael Ivey from CLICKON Media on Vimeo.