Open up Instagram and what are you typically faced with? A feed full of flawless selfies, holiday pictures, 'candid' outfit shots and carefully edited highlights from different user's lives. After scrolling for just a few minutes and you're often left feeling a little envious at best or completely inadequate at worst.
But as we become increasingly aware of influencers and their sometimes unrealistic portrayal of life online, are we now craving content that's more real?
Rise of Raw
Since Instagram switched from a chronological algorithm to a feed which prioritises what they predict you'll be most interested in, influencers have complained that their engagement has suffered (which is why you've seen a lot of them prompting you to turn on post notifications.) But could this lack of engagement come from 'filter fatigue'?
With the steep rise of influencer marketing over the last few years, our feeds have become saturated with staged photos, carefully curated flat lays and unrealistic #lifegoals, leading us to crave something a little less filtered – and some influencers have taken note.
While we still love to be inspired by beautiful shots, the backlash to a recent Instagram post by Scarlett London is seriously telling about the way a lot of us feel towards these kind of photos and both brands and influencers must now work smarter to truly engage an audience.
Scarlett teamed up with Listerine to create a sponsored post around her morning routine. The picture shows a glamorous Scarlett surrounded by balloons, pancakes (which are supposedly actually tortilla wraps), strawberries and an immaculately made bed. Sound like your morning? Probably not. Unintentionally, Scarlett's post depicted the problem users are having with social media right now and the feeling was summarised with a Tweet which now has over 110K likes:
Fuck off this is anybody's normal morning.
Instagram is a ridiculous lie factory made to make us all feel inadequate. pic.twitter.com/arV7uCusiJ

— Nathan (@hintofsarcasm) 31 August 2018
How?
The answer? Be more authentic. Instagram Stories now often sit in stark contrast to what you'll find on a user's grid. Far from slick pictures and videos, you'll find it used as a channel to show their everyday life through a more casual and true to life lense. Beauty blogger, Desi Perkins, known for her super glam pictures, has dedicated two IG highlights to a more relatable and laid back version of her. One of her wearing an eye patch out and about after suffering from a random allergic reaction and another about her love of Oreos.
While Sophie Milner aka Fashion Slave's grid shows her out and about all over London, her Instagram story can paint a different picture, often showing the realities of spending Saturday nights in by herself with a takeaway.
But the biggest trend filter-free trend influencers are taking on? "Finstagrams" aka "Finstas".
This second Instagram account is set up to be entirely dedicated to a more laid back version of them. Sophie Milner's second Instagram shows outtakes, behind-the-scenes and the 'reality' behind the photos you'll find on her main feed. This new account named @reallifesophie aims to show a more authentic side of what beauty blogger life is really like. Find pictures of her getting changed in a doughnut shop in Old Street station for a shot and countless photobombs from random men. It might sound insignificant on the surface but these more relatable posts are a refreshing break from the picture perfect life we're usually faced with.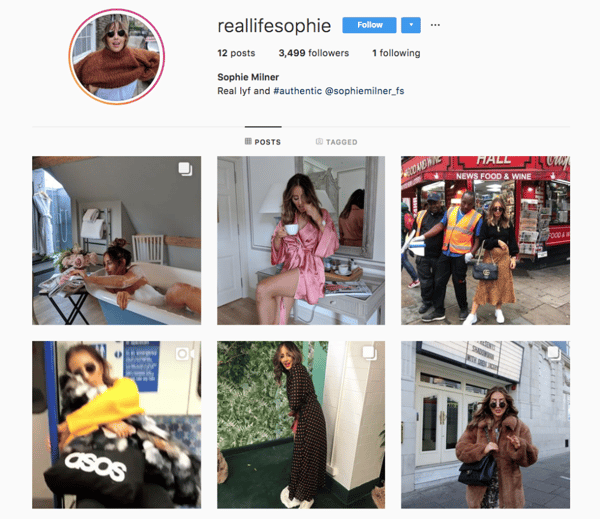 Mental Health and Social Media
This shift comes at a time when the conversation around social media and mental health is as topical as ever. The Guardian called it "The Age of Envy" and mentions that Ethan Kriss, a Professor of Psychology, who studies the impact of Facebook on our wellbeing, says "envy is being taken to an extreme [on social media]" as we are constantly bombarded by "photoshopped lives" and the feeling isn't pleasant.
Bringing a touch of reality to an otherwise staged projection of life is refreshing and being able to see 'lows' as well as the 'highs' of life of person we admire makes them far more relatable and on a brand partnership level, far more engaging with a higher ROI.
Brands – CLICKON Media
Richard Wilson, CEO at CLICKON Media, "We know authenticity reigns and storytelling is truly at the heart of everything we create. Audiences are wiser than ever when it comes to advertising and we're well aware that content needs to be equally beautiful, authentic and smart that builds cultural relevancy with audiences."
Notes to Editors
CLICKON are content creators and performance marketers. Storytellers and growth hackers.
CLICKON create ground breaking branded content that delivers results and reaches target audiences with specific, measurable outcomes. Utilising a joined-up approach, CLICKON delivers fast, agile video campaigns with performance backed delivery across a range of audience channels.
Our in-house divisions, Studios, Social LABS and Digital Networks foster unrivalled speed of delivery and reporting efficiencies for clients who need to respond faster in the digital era.
Our own channels ensure we are at the cutting edge of audience behaviour and trends when consulting and advising with clients. With offices across London, New York and Los Angeles, CLICKON is the missing link for partners looking to scale digital marketing with tangible, visible results.
Our new way of thinking has delivered successful partnerships with brands including RedBull, Adidas, Y&R, Americas Navy, Acer, General Tires & Microsoft.
Follow us:
For more details, interviews and images please contact Ruby Nightingale at enquiries@clickon.co