As the United States approaches 100 years of women having the right to vote, CLICKON Studios had the exciting opportunity to get involved in the Miss America 2.0.
The Miss America competition has remained at the forefront of women's rights discourse throughout the 20th and 21st Century and being involved in the Miss America 2.0, gave CLICKON a great insight into how far we have come.
The Miss America competition has had a huge influence on American popular culture from national trends to social movements calling for it to be banned. It has well and truly evolved from a swimsuit competition to a platform for some of the most inspiring and hardworking women from across the United States to further their humanitarian causes.
With the Weinstein and Cosby scandals and #metoo heavily playing out in the wings, the swimsuit round is now a thing of the past, and it was very clear that the 51 young women we spoke to were not there to be seen solely as beautiful women competing for a crown, but as women with so much more to offer.
They are Harvard, Brown and Maine Graduates. They are scientists with a passion for rocks and dirt, inventors of a prototype tile that generates electricity when walked upon and future diplomats.
The role of Miss America is a once-in-a-lifetime experience but one that comes with huge responsibilities and to win the title, takes a lot. You have to be in it to win it and yes, while they were all attractive women, that didn't define them or give them an advantage in the competition.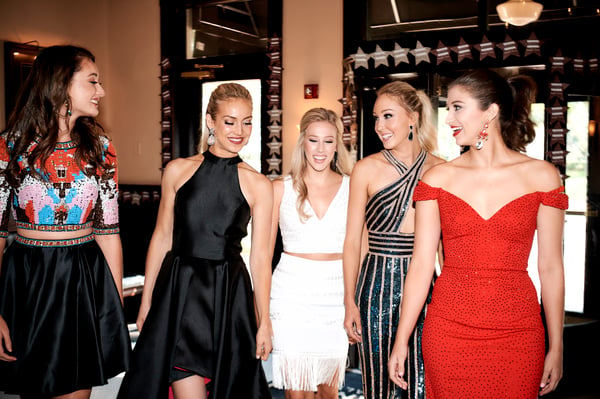 For these women, winning Miss America is the chance to become an advocate for change in the United States and help improve the lives of people in their communities. Whether that be setting up mental health initiatives, or improving the lives of children with incarcerated parents. What was so inspiring about this project, and made us so proud to be involved was that these women all had a story to tell, they had drive and it was clear to see they wanted to make a difference to the lives of other people and to be role models of the future.
These are young women who are looking for a platform from which they can empower their peers and encourage them to dream big, make sure their voice is heard and be part of a generation working for change in a volatile world.
Cody Ball, CLICKON Director, said " We spent four days in Orlando shooting some really honest footage as we interviewed all 5 of the Miss America candidates. We got to spend around 20 minutes with each woman,getting to know their story and their perspectives on the role of Miss America. It was pretty phenomenal to be part of the bigger cultural picture and to get an insight into this iconic event which offers the winners so much and presents them with a chance to give back at a pretty young age."

Richard Wilson, CEO of CLICKON MEDIA, added, "While the title is the same, Miss America has changed with the times and is today less about what you look like and more about your contribution to society. This is an iconic event that is steeped with history, but change was needed, and we think these films show that the title is no longer about swimsuit competitions, it's about the person, their core beliefs and what they can do to make change in our ever challenging, culturally transcending society."
The set of four films can be viewed at Miss America.