Nov 02, 2018
CLICKON Media Wins At Digiday Awards 2018
Last night, CLICKON attended Digiday's 2018 Marketing and Advertising Awards and left with a huge smile on our face as we scooped 'Best Use of Native Advertising' for our Wavemaker documentary in partnership with General Tire.
The Digiday Marketing and Advertising awards recognise the companies, campaigns and technology modernising European marketing and advertising. This is a huge achievement against tough competition and is not only a true reflection of the entire team's hard work but also a great example of how storytelling through real connections resonates with audiences on another level.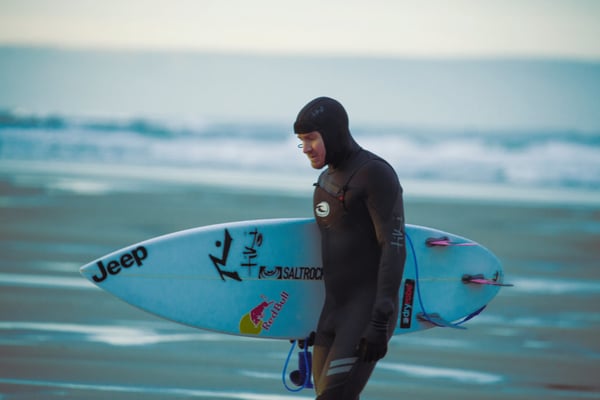 Wavemaker: The Road to Recovery explores Andrew 'Cotty' Cotton's story from a plumber and lifeguard in Devon to one of the biggest wave surfers in the world. However, while in Nazare, Portugal in November 2017, his life changed.
"I can remember coming to a point realising that I wasn't going to get in the barrel of the wave, and then thinking, 'ok, you just need to get off your board and jump. I just remember feeling I've done something to my back… I think it's broken."
Cotty was attempting to surf a 70-foot wave but misjudged it and broke his L2 vertebrae, the lower part of his spine. The story follows his drive for success and relentless desire to get back on the board. Watch the full film:
Richard Wilson, CEO of CLICKON Media, said: "We are so thrilled to have been awarded 'Best Use of Native Advertising' at The Digiday awards. Wavemaker: The Road to Recovery shows CLICKON at its very best; showing how authentic, human stories are the way forward in advertising. We want to say thank you to both Andrew Cotton and General Tire for entrusting us to tell this story."
Our own channels ensure we are at the cutting edge of audience behaviour and trends when consulting and advising with clients. With offices across London, New York and Los Angeles, CLICKON is the missing link for partners looking to scale digital marketing with tangible, visible results.
Our new way of thinking has delivered successful partnerships with brands including RedBull, Adidas, Y&R, Americas Navy, Acer, General Tires & Microsoft.
For more details, interviews and images please contact Ruby Nightingale at enquiries@clickon.co