Apr 30, 2019
Are Esports Fans Socially Awkward?
CLICKON Social Labs compared the time spent socialising between esports and non-esports fans.
Three times as many 35+ year old esports fans socialise 1-2 times per week compared to non-esports fans.
Non-esports fans socialising 3-4 times per week is almost four times less for 35+ year olds compared to 18-24 year olds.
Seven times as many esports fans between the ages of 26-34 socialise every day compared to non-esports fans of the same age.
"When I look at 2018, I feel like it was the year that esports really started cracking into the mainstream." Jack Etienne, owner of North American esports team Cloud9.
Approaching half-way into 2019, with an esports industry worth $906 million and forecast to reach $1.65 billion in 2021, the stereotypes associated with esports and its players should be a thing of the past.
This lucrative industry is attracting players from every corner of the world, along with loyal viewers and brands offering sponsorship deals. Last year, over six billion hours were clocked watching professional gaming - up by 19% since 2015 - as its presence in today's market is increasing, the stereotypes associated should not.
Meet the stereotypical esports player: a young male, unsociable, and living in his parents' basement. CLICKON Social Labs compared esports and non-esports fans regarding their time spent socialising in order to investigate one element of the stereotypes attributed to the esports world.
Esports Fans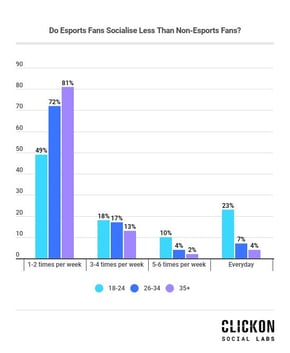 Non-Esports Fans
When looking across both graphs, generally speaking across all ages there is a higher social activity for esports fans. They consistently socialise more every day than non-esports fans, regardless of age. With three times as many 35+ year old esports fans socialising 1-2 times per week compared to non-esports fans.
The term socialising in 2019 is very different from previous years. Esports is not what people assume - one player sat at a computer on their own - there is a whole other side people are missing. There are teammates, each who fulfil a role where they need to rely on and help each other. There are opponents, who players will directly engage with and there are fans, those watching streams online, or filling the stadiums at live events.
Across all age groups for esports fans socialising 3-4 times per week, there is only a 5% difference between the most engaged social group (18-24) and the least (35+). Whereas, when you compare that to non-esports fans, the highest socialising group (18-24) at 21% is four times more than 35+ at 5%.
This makes evident that esports does not act as a hindrance to the social life of fans or players. Esports should be viewed as any other team sport, there is training, competing, and working in groups, with the end result being a competition in front of fans and other players. How can this be viewed as antisocial?
In addition, for esports fans, the 26-34 year olds place second most socially active for every time bracket, but non-esports fans of the same age are shown not to socialise every day or 5-6 times per week.
The results demonstrate that esports fans are generally more consistent, across the three age groups, in socialising. What needs to be recognised is that engaging with a game on a computer does not limit these fans, it provides a gateway to interact not only with friends but also players worldwide.
Despite resistance against the new and different world of esports, it can no longer be classified as antisocial, and hopefully, as it enters the mainstream, people will become more informed about the social possibilities of this sport and learn to accept it.