Mar 23, 2020
How has Esports adapted to COVID-19?
The outbreak of COVID-19 has been at the forefront of the news for the past couple of months. Its impacts have been felt across all industries. Bars are shut, theatres are closed, and all conventional sports have slowed to a temporary halt. But one industry in particular is naturally more suited to survive in an online-only world - Esports.
Over the last two weeks, the esports industry has shown its versatility by adapting to the ongoing situation, with even the biggest sports stars dipping their toes in.
#NotTheAusGP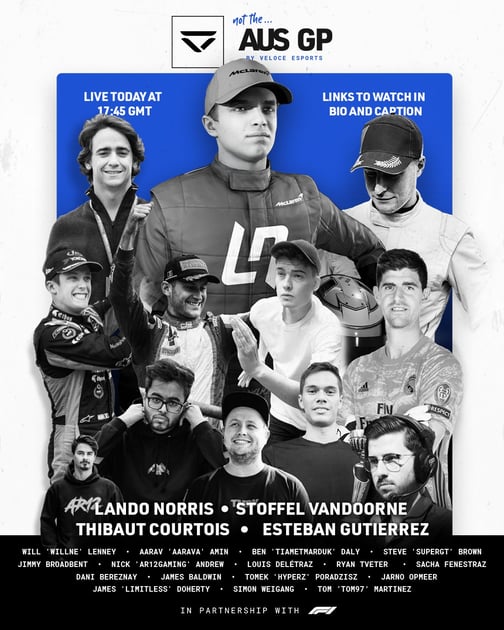 With the Australian Formula 1 Grand Prix cancelled, 'Veloce Esports' took to the internet, and invited several F1 drivers, sports stars, and esports personalities to participate in a simulated version of the event. Cleverly dubbed: #NotTheAusGP
The event took place entirely on Twitch.TV, on the video game "F1 2020" and was an unprecedented success. Professional F1 esports driver Daniel Bereznay took home first place, beating out actual Formula 1 driver Lando Norris, who crossed the finish line in 6th position.
Other drivers included Real Madrid goalkeeper and French football international, Thibaut Courtois, who ended the race in 11th, while popular Geordie Youtuber WillNE only just avoided the bottom spot, with a 19th place finish. Lando Norris lead the way in viewership, boasting 70,000 concurrent viewers at one point.
The event was such a success, that F1 themselves followed Veloce's lead to create their own online event for the Bahrain GP.
What a result! 🏆@gyzhou_33 WINS the Bahrain #VirtualGP 💪@svandoorne picks up P2, with @Philipp_Eng third#F1Esports pic.twitter.com/vq9ggckvRP

— Formula 1 (@F1) March 22, 2020
Leyton Orient - UltimateQuaranTeam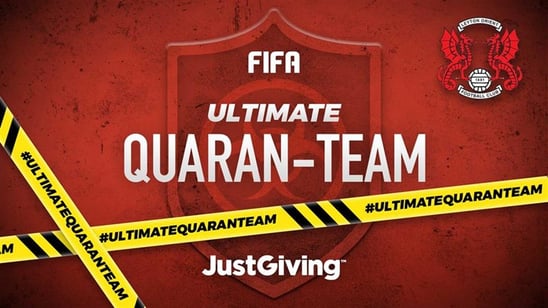 After their fixture with Bradford City was called off in mid-March, League Two side Leyton Orient decided to move the fixture online. But before long, the idea had escalated to an entire tournament, complete with 128 professional football teams around the world, competing against each other via Fifa 20.
The list of teams is quite remarkable, and varies from reigning Premier League champions Manchester City, to Dutch side Ajax, to Australians Sydney FC, to Italian giants Roma, to the likes of Newport County and Wycombe Wanderers in the lower English Leagues.
Crystal Palace have confirmed that one of their key real players Andros Townsend will be representing them, and many other clubs have done the same, though some - perhaps keen to get an edge - have recruited some of the more talented FIFA players to join their cause.
JustGiving, DreamTeam, and Papa Johns have all got involved in what's rapidly becoming the largest (albeit, only) footballing event going on at the moment!
Sports Stars on Twitch.tv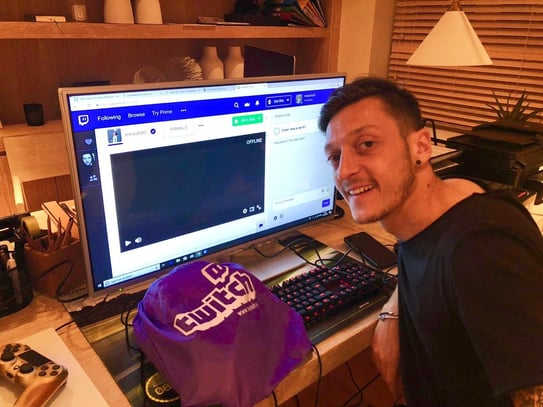 Professional athletes across the world have had their competitive seasons cut short due to COVID-19, and have very quickly turned to Twitch.TV and online gaming to fill their competitive needs.
Arsenal FC duo Mesut Ozil and Sead Kolasinac have been on the platform nearly every day, streaming their adventures in Fortnite to an audience of just a few thousand - with most twitch fans preferring to stick with their usual streamers. Nonetheless, they have indeed brought many conventional football fans to the site, and as it turns out, are surprisingly good at Fortnite - maybe that explains Arsenal's troubles this season…
Joining them has been a variety of football players and a large contingency of NBA superstars from the States. Dallas Mavericks superstar Luka Doncic has been live streaming on the site, and Devin Booker - of the Phoenix Suns - actually learned of the suspension of the NBA while streaming Call of Duty on the site!
The Debrief
Those are three examples of how esports and gaming are leading the way in this time of crisis. But there are many more. The League of Legends LCS and LEC competitions both shut down temporarily but have since restarted with all players playing remotely and online. No other sport in the world can do that.
No one wants to see more disruption from COVID-19 and we all hope that things can return to normal as soon as possible. But if you're looking for something to watch during your self-isolation, it might be time to tune into the esports world and see what they've got to offer.