Dec 20, 2019
Iconic Partnerships and Sponsorships in Esports 2019
With 2019 coming to an end, let's take a look back at what has been yet another groundbreaking year for esports. The industry continues its meteoric rise, with some key partnerships and sponsorships standing out as landmark deals.
Clothing companies make big strides in the industry.
Manchester City Football Club Changes the Game for conventional sports teams.
Louis Vuitton x League of Legends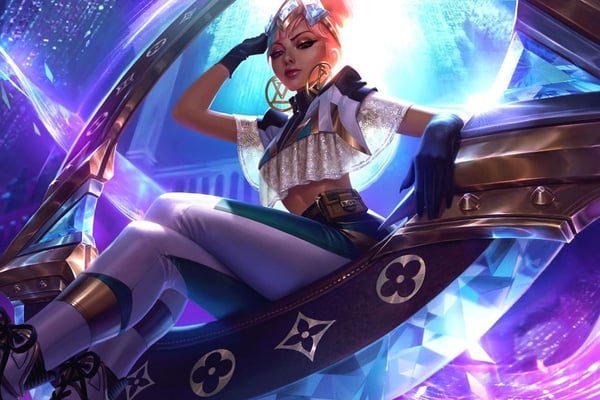 We covered this in our September review, but this partnership warrants the extra coverage.
The key to success in this instance, was the fact that Louis Vuitton - a world renowned, high-class fashion brand - tailored their activation to esports fans, rather than expecting esports to adapt to them.
In-game cosmetics, League of Legends themed clothing (which sold out within an hour), and a custom-made trophy case for the League of Legends World Championship all indicated that the company had mutual respect for the community and that's what got them the respect of the audience.
It earns its place on the yearly highlights simply because it should act as a benchmark for any non-endemic companies who think that their brand may not be suited to the esports audience.
Cloud9 x Puma
Talk about getting attention.
When Puma announced that they would be running an esports themed clothing line with North American organisation, Cloud9, the esports community went crazy with excitement.
Another example of a global brand respecting the community rather than featuring traditional models, the announcement video acted almost as a tribute to the talented players and influencers within Cloud9 - and even featured the founder of the organisation!
Along with framing esports as 'outside of the box' and 'unconventional', it sat perfectly with its target audience. Respect is key and Puma have nailed it with this collab. And, hey, the clothing line is pretty good too.
KIA x LEC
For details, check out our May Review.
When the LEC first formed, there were doubts. North American markets had always held dominance over European, especially in League of Legends. The LEC was a bold new step and had to build its commercial offering from the ground up.
KIA were one of the first aboard and despite ramping up slowly at first, the company has cemented their place as part of the broadcast. Key content pieces that told the stories of the league's key players captured the attention of the audience.
Although suggestions that a car manufacturer isn't suited to an esports audience were misguided, it's still not the most natural pairing. However, the collaboration between KIA and the LEC has made it feel like a match made in heaven.
Man City x FaZe Clan
Manchester City certainly aren't the first conventional sports team to get involved in esports. In fact, they're not even close. But none of those other teams were as bold with their introduction.
Man City have been flirting with competitive FIFA for a while, but their partnership with FaZe Clan came out of the blue (get it?). The North American gaming organisation is the largest in the world and commands over 4 million followers on Twitter, and 7 million Youtube subscribers...and that's just their official accounts, not all of the influencers they have under their umbrella.
Man City are an enormous entity, but this isn't a case of slapping a logo onto an esports jersey for some credibility with the kids - the football club has fully embraced the scene. Including gaming-focused talk shows, hosting competitions in Asia, and inviting the FaZe Clan competitors to hang out with Kevin De Bruyne and play Fifa with Benjamin Mendy.
The team even wore the FaZe Clan logo ahead of one of their Premier League matches this season.
We're extremely interested to see how this partnership develops and how it impacts other conventional sports teams looking into the esports industry.
Debrief
These are just a couple of the most influential deals of 2019. Truth be told, there have been countless creative, imaginative, and groundbreaking deals executed throughout the esports industry this year. From clothing, to automotive, to financial, to beauty and skincare, to fast-food…the list goes on.
Here at CLICKON, we had the pleasure of introducing several big-name brands to the esports space with our research paper and 'Esports Breakfast' event. The event featured speakers from Red Bull, Excel Esports, and EsportsInsider.
We specialise in working with businesses to engineer the perfect entrance into the esports industry. By collecting the relevant data, we can discover which community would respond best to your brand.
Whether it be sponsorship, event activations, or influencer-led campaigns, CLICKON can plan, implement, and maintain a strategy that's tailor-made specifically for your brand.
If esports sounds like it could be part of your 2020 strategy, or you would like to learn more,
contact josh.raven@clickon.co [Esports Consultant] or richard.wilson@clickon.co [Co-Founder and CEO].