Aug 02, 2019
Esports: More Than Just The Fortnite World Cup
$30 Million in the prize pot. Over 100 competitors. One eventual champion.
Last weekend, the inaugural Fortnite World Cup reached its conclusion at the Arthur Ashe Stadium in New York City.
That champion turned out to be 16 year-old American player Kyle 'Bugha' Giersdorf.
The youngster pocketed $3 Million, and kickstarted a conversation that has transcended the esports industry.
It's not uncommon for esports to flirt with the mainstream media from time-to-time. Counter-Strike Majors, DOTA 2 Internationals, and League of Legends World Championships have all enjoyed time in the spotlight before, but this was something different.
In the week since claiming the trophy, young Kyle has appeared on The Tonight Show with Jimmy Fallon, NBC on the Today show, and multiple international news outlets. In the blink of an eye, he went from a talented school kid, to a millionaire and international celebrity.
The attention isn't surprising. The Fortnite World Cup drew in 2.3 million viewers on Twitch.TV and Youtube alone, not counting for those watching within the game client itself, and viewers watching on different platforms in South Korea and China.
More and more international brands are starting to recognise esports as a viable strategy for reaching a younger audience, and the success of the event will only accelerate that process.
However, it's important to remember that Fortnite isn't the only option out there for brands.
As shown by the large number of competitors under the age of 18, Fortnite is THE esports title to look at when trying to reach a much younger audience. Brands like Marvel, Nike, and Jordan have already done deals with the gaming behemoth, and by all accounts, have enjoyed success.
But with Fortnite front-and-centre, and brands scrambling to try and add their relevance to an already overcrowded space, are there alternatives?
The media darling of esports prior to Fortnite, for a long time, was League of Legends. Though not on the same scale as Fortnite, the bright, exciting, and kid-friendly PC game was often portrayed as an 'introduction to esports'. Likely because of its more appealing aesthetic when compared to its contemporary in the 'MOBA' (multiplayer online battle arena) genre - DOTA 2.
The title drew in 100 million viewers across all platforms for their 2018 World Championship, and holds an estimated player-base of 120 million. A giant of the scene in its own right, the LCS (League Championship Series) in California, and the LEC (League of Legends European Championship) in Berlin have kicked it up a notch this year with regards to content and commercial partnerships. Including deals with State Farm, KIA, and Footlocker.
Venturing into the slightly more 'hardcore' area of esports, titles like Counter-Strike, Street Fighter, and World of Warcraft make appearances. Though the viewing figures tend to be slightly smaller in general, they cater to a much more specific audience.
While operating within these titles will not enjoy the same reach as Fortnite, it will be much easier to punch through all the noise, and make a connection with a targeted audience.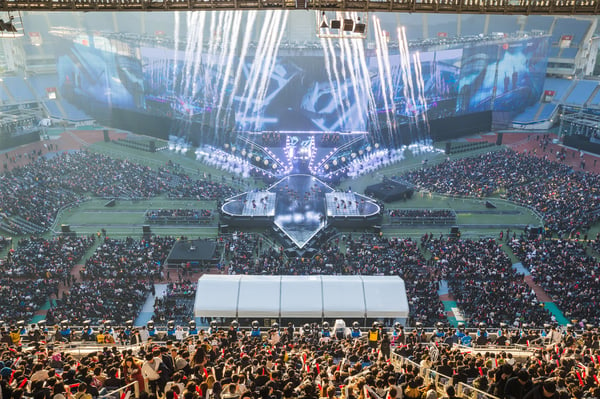 The esports industry continues to bloom year-after-year, and opportunities for brands to win over an audience notorious for being resistant to traditional advertising are everywhere.
Just a week after the Fortnite World Cup, the FIFA e-World Cup takes place. Though perhaps not as traditional of an esports title, the tournament will still feature a $250,000 prize pool and will be broadcast live on Sky Sports.
Meanwhile later this August, the DOTA 2 International takes place in China, where 18 teams will battle it out for their share of $30 Million. Two completely contrasting video game titles, both enjoying major esports events within the same month.
The Fortnite World Cup has solidified itself as the largest esports event of all-time when it comes to mainstream media recognition, but it still only plays a part in the ecosystem of esports.