Mar 20, 2019
Inside CLICKON: Introducing John Parker, London's New Director of Creative Partnerships
Say hello to one of the new faces in our CLICKON family…




Director of Creative Partnerships, John Parker.



John grew up in a farm on the West Coast of Scotland and began his career by studying Civil Engineering at University.
After realising his interest in marketing and communications his career took him from Account Manager to Global Head of Creative at M&C Saatchi Sport & Entertainment and now, to us at CLICKON.
What do you do at CLICKON?
I joined CLICKON Media a couple of months ago as the Director of Creative Partnerships. My main responsibility is to ensure collaboration and growth of each of CLICKON's divisions including: Creative, New Business, Studio, Social LABS and Esports, helping to create a fully integrated creative and production offering. I've always enjoyed working across both the creative side of the industry as well as the strategic and data led side of things. CLICKON's unique proposition where the worlds of creative and data converge is something that really appealed to me. Consumers want a more human, emotional connection with brands, and brands want a more cost effective, efficient and insights-based approach. That is what CLICKON delivers.
How did your career begin?
But to really understand how I got to CLICKON, we need to start at the beginning of my journey, on the West Coast of Scotland where I grew up on a farm in Ayrshire. Quite the opposite to my current lifestyle in London. From a young age, I was always involved in creative past-times, I was in school plays, the choir and band, plus involved in almost every sporting team I could manage. But unfortunately, in my hometown, creative industries just weren't known, they weren't presented as a viable career option, so my future was shaping to be in a technical discipline, probably something in engineering, maths or science. Luckily, I was quite adept in maths and sciences, and to no surprise, I fell into civil engineering. At the time, I thought building bridges would be pretty cool, so why not?
Fast forward a few years, and I went on to study Civil Engineering at the University of Strathclyde for four years, achieving a 2.1. Somewhere in between my third and fourth year, we were encouraged to get summer jobs to jazz up our CVs, and I managed to bag a job in London helping with the Millennial Bridge for three months. It was a great experience, but moving to London at the age of 19 on your own, was a very daunting thing, especially when you don't know anyone. After being involved in a one-of-a-kind incredible project, I thought to myself, 'now what?' I couldn't see anything living up to this experience, and that made me seriously think about the direction of my career. In my final year, for no reason that I can really remember, I developed an interest in water treatment methods (yes, I know this is incredibly dull), and decided to do my final year dissertation comparing the West and East Scotland water treatment methods. I didn't have much to go on in terms of scientific methods and information, so at the last minute I changed the angle to the effects that PR and Marketing had on the work of engineers. Do they have planning processes, positive sentiment in the community, etc. A rogue topic some may say, but my personal tutor liked it. During this time, I spoke to a lot of people in the PR and Marketing industry, and this first ignited my interest in the world of marketing and communications.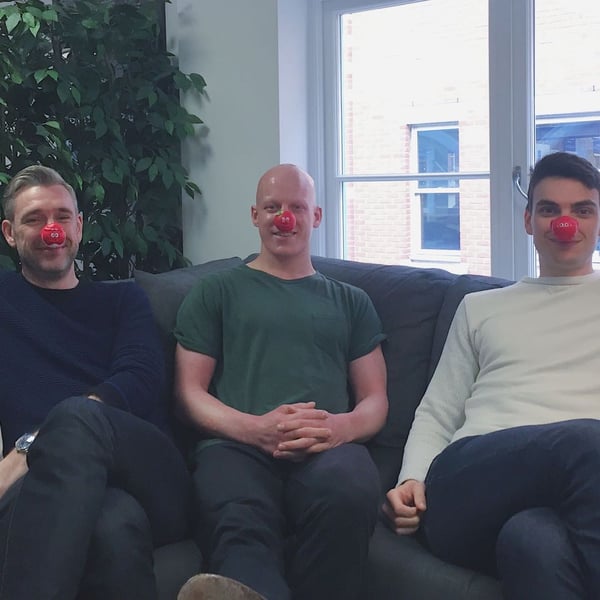 I went on to study for a Masters in PR at the University of Stirling, the campus had a huge department for media and another for sports, which combined two of my favourite interests. I decided on my Masters dissertation to look into how the role of PR and Comms at Scottish football clubs developed following the change in football in the 90s; the English Premier League was just kicking off, all seater stadiums were introduced after The Taylor Report was published and marketing and communications was key in making football a much more friendly and welcoming environment for people, especially families. I had the opportunity to speak to a lot of high profile people in media and sport in Scotland, this helped me land my first job with The Sport Business.
Scotland has quite a small creative market, and after 2 years working with The Sport Business, I realised that if I was already at the biggest sport sponsorship company in Scotland, it couldn't really get much better than this. That's when I decided I was going to move to London. I bought a plane ticket, and hoped for the best.
My first job in London was at Hill & Knowlton, they wanted to expand their football offering so me knocking on their door at the right time was quite fortuitous. I got to work with a lot of big names in football and sports in general, and it was a great experience and taste of London life. From this point on, my career took me to all kinds of events, festivals and tournaments. I was very proactive, doing just one thing was never enough, and with this drive, I moved through various roles at M&C Saatchi, starting as an Account Manager before working up to the role as Head of Sport and eventually the role of Global Head of Creative at M&C Saatchi Sport & Entertainment.
I am a strong believer that, if you have drive and are willing to open up and learn more, you will have so many more doors open for you, and incredible opportunities will come your way. I want to harness this energy and help my co-works achieve all their potential so that they too can have all the amazing experiences I did and more. CLICKON has an impressive future ahead, and I am honoured to be a part of it and help drive it towards greatness.