Nov 28, 2018
'Swim Wild' In Partnership With General Tire
CLICKON Media are so excited to finally share the short film 'Swim Wild' and introduce you to The Wild Swimming Brothers. Meet Jack, Calum and Robbie who took action after chaotic city life had taken its toll and discover why they escaped urban living for open water swimming.
"As I was drifting through life I was getting lost and moving further away from something eight-year-old Calum wouldn't have been proud of. I realised how much that childhood meant to me, and I was like, this is the time I need to do something different."
Escaping city life was the release they needed – but the brothers' journey goes deeper than that. While they say they don't think they could ever call anything they've experienced depression, there have been moments where they have felt completely detached.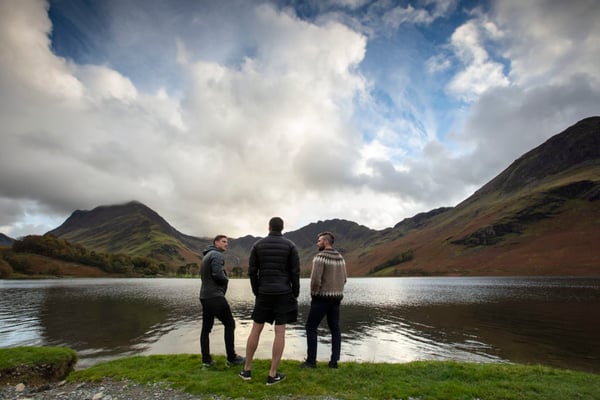 "You're much more in tune with what you're thinking. What you're feeling. I know the amount of it that I felt has been helped hugely by swimming outdoors."
After growing up in the Lake District – with hiking and river raft racing on their doorstep – the social anxiety that came with the fast-paced and sometimes overwhelming nature of city living began to affect the brothers' well being and sense of belonging.
It was when their parents split up and the family home was sold that middle brother Calum (29) felt the full force of his need to reconnect with nature. He had the revelation to go back to the roots of his childhood by swimming the Eden Valley with his brothers, Robbie (31) and Jack (26), to feel that connection once again.
Since completing the Eden Valley swim, they've swum in the Arctic, including swimming across the most powerful maelstrom in the world, as well as swimming from Europe to Asia.
But perhaps their most special swim was swimming the length of Loch Broom to pay tribute to their late grandmother, who was known as the Wild Lady of Loch Broom and remains a huge inspiration behind their journey.
This epic story follows the like-minded cold water loving brothers journey to push themselves to new limits and explore the beautiful scenery across the country with the help from General Tire, making the dream come true that, 'Anywhere is Possible'.
Filmed in The Wild Swimming Brothers' old stomping ground, the Lake District, our studios team spent four days with Robbie, Calum, Jack and we can't forget Calum's dog, Hugo.
Despite the brothers' wishes, the film crew managed to avoid joining in on the ice bath scene. The crew were treated to glorious autumn conditions filming around lakes such as Buttermere and Windermere, and were joined by the underwater team who delivered BBC's, Blue Planet, for the aerial and underwater shots.
This short film follows our compelling 'Wavemaker' video which demonstrates the spirit and determination of Red Bull big wave surfer, Andrew Cotton, and shows his incredible journey back to health and into the water after a 50-foot wave broke his back. All this, with a little help from the GRABBER AT3 all-terrain tyres.
Discover their story so far by watching the full film here.
Our new way of thinking has delivered successful partnerships with brands including RedBull, Adidas, Y&R, Americas Navy, Acer, General Tires & Microsoft.
For more details, interviews and images please contact Ruby Nightingale at enquiries@clickon.co